My Folks Website
|
home

Ian Lewis Skene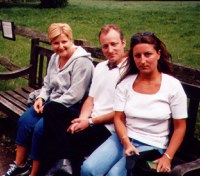 The Beginning.....
After a lot of thought at the age of 32 I decided to go in search of my birth mother. I was in fear, excited and very scared, I felt a lot of guilt as I didn't want to hurt my adoptive parents who had raised me as their own, neither did I want to cause any problems for my birth mother and her family.
Like every other adoptee I have read about, I just needed to know about me, I needed to know where I came from, who I was. I wanted to wake up in the morning look in the mirror and recognise who I really was, ands not just presume who I was.
The Search.......
I was very fortunate in starting my search, as my adoptive parents had saved a lot of the information and records. These records told my original birth name of Skene and birthplace. The name being quite unusual encouraged me to search the local telephone directories. I started to make telephone calls to all the Skenes', but it brought nothing. I was born in Manchester and apparently the name originates in Scotland.
I decided to contact Social Services to get access to my file, which would have held my birth mother's full name. I was told it would take around three months to access the file! So there I was, all fired up and ready to take the plunge, and ending back at square one.
One day I decided to have a look on the Internet to see if there was anything on Adoptions and tracing. By Total accident I came across a site and I left a message, not really hoping for a reply, just really going through the motions.... I visited the site every day, hoping, and eventually after keep seeing the name of Debby Wilson, I decided 'What the Hell' and emailed her. Debby offered to take up my case. Hope at Last I thought. I gave Debby all the information (which actually wasn't that much considering) I still hadn't received a reply from Social Services either, but Debby assured me that with the little information that I did have she could by-pass Social Services and get me my original birth certificate. I now had a real name for my birth mum! Fortunately it was Marise, which was also quite unusual. Debby had formed a Family Circle with the webmaster Paul Field and in this circle was a lady called Joan Allan. Joan run a check on the people in the whole of the UK with the first name of Marise, there were only 268! However because we had a middle name we managed to narrow it down to just 87.
Meanwhile Debby had been searching for a marriage index for my birth mother but this proved fruitless. She then started looking for a birth certificate for Marise, as it was likely that her parents would still be alive. Results came back in the form of one marriage certificate, giving my grandparents names, last known address etc. Using the info-disk there were no couples with the names of my grandparents in the UK living together, but there was one for a possible grandmother on her own. This was at the opposite end of the country from where our search started out so we left that one for a while. We re-checked the entire marriage index's right from 1968 to 1990 - again nothing! I decided to try phoning some of the Marise' listed in the UK in the hope that we could find her, had she changed her name, had she gone overseas... or worse! Having come to a dead end again Debby told me to call the local library in the area of the address on the birth certificate to see who was registered at that address at that time, and there were 6 names listed as being there. This we thought would give us some new leads....wrong
Having got this far it was decided that contact should be made with the suspected grandmother and BINGO!
I had been advised of what to say by Debby and Joan, as this news could well have come as a shock, I rehearsed my speech to perfection and made the call. I already knew that my birth mother was a trainee nurse at the time of my arrival into this world, and so used the fact that I was planning a nurses reunion and would love Marise to be there. This lady at the other end of the phone proceeded to tell me that her daughter Marise had passed away several years ago. I was speechless, devastated, angry, upset - you name it I felt it all in the space of seconds. I immediately said thank you to the lady and hung up. In tears I called Debby and she talked to me for a while and then took control of the situation, I was a quivering wreck by now. Debby offered to call this lady to apologise for the little white lie and to explain who I was.
Debby called me back about half-hour later to explain that this lady whilst very nice was a little economical with information, but had said that she was aware of my existence and that Marise had 2 daughters. She went on to explain that the lady would be talking to her granddaughters over the weekend to explain the situation and to see if they would like contact with me. Debby said that this lady didn't actually sound like she held out much hope, and that if we didn't hear from her for a couple of weeks then we would write a nice letter.....
Two days later, Debby Called, and her actual words were, ' How would you like to phone your sister' - Apparently one of my sisters had phoned Debby, and was absolutely delighted to hear of my existence, and couldn't wait to hear from me. Wow, my whole world turned around, from being told that my birth mother had passed away, to suddenly having my sisters phone number.
Three hours later I plucked up the courage and called my sister Jane. She was 2yrs younger than me and told me that I had another sister Heather. Time flew by on the phone and we promised to talk again soon. At 6 o'clock that very evening Heather, my other sister called me. We chatted for a while and got on really well. Two days later a parcel arrived for me, containing photos of my birth mother, and my sisters. Looking at my birth mothers photo was like looking in the mirror, only now I could recognise who was looking back, I had found ME.. I finally met my sisters a couple of days later and can't begin to describe how it felt, wonderful, fabulous, brilliant.,....all the years of knowing nothing and now it was all so real.
The Emotions
The best way to describe the search is like being on the biggest roller-coaster ever, lots and lots of lows, lots of highs and in my search a fantastic twist at the end. The enormous adrenalin rush is just indescribable, the lows, well they are like someone wrenching your heart, but most definitely worth every moment of it all..
The Ending and The Future.....
I still have not received my adoption file from Social Services as promised 6 months ago, but by using the Family Circle and by-passing Social Services, I have found two wonderful sisters, an uncle and the knowledge of a grandmother (she is unsure if she wants contact at this stage).
None of this would have been possible without the wonderful help from Debby and Joan at the Family Circle, their time and efforts in tracing was amazing, offered me 24hr support when things were getting me down, they were more than researchers to me and my family and we will always remember them for what they have done. We are still in regular contact and intend to keep it that way.
Thank you so much for turning my dream into a reality, and god bless to Marise, the mother I didn't know.
Yours truly,
Ian